Rice University Performing Arts Center
Owner: Rice University
Location: Houston, Texas
Client: Rice University
Cost: $100,000,000
Size: 84,000 Square Feet
Project Type: Higher Education
Professional Services: Commissioning
Markets: Higher Education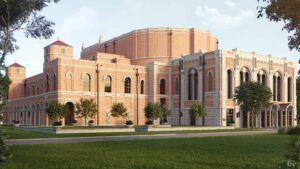 In 2020, Bath Commissioning provided complete LEED V3 Enhanced commissioning services of the $100 million, 84,000sqft, state-of-the art Brockman Music and Performing Arts Center at Rice University in Houston, Texas. Commissioning services also included all theatrical systems such as the stage gantry systems, lighting systems, smoke systems, etc.
The new music and performing arts center represents Rice University's continuing aspirations for the ongoing success of the Shepherd School and will take to an entirely new level Rice University's ability to serve more broadly as an arts and event venue for the Rice community and the City of Houston. The 84,000-square-foot facility includes a three-tiered, 600-seat, European-style opera theater with an orchestra pit for 70 musicians.
Bath performed the design review as it related to commission ability, operator interfaces, sound, and lighting systems. Commissioning services were provided on all aspects of the project including all theatrical systems. This is the second higher education Performing Art Theater that Bath has commissioned. The other being the 1,000 seat Performing Art Center on the UTRGV Edinburg Campus.