Arc Flash Studies is one of the more frequent requests from clients to provide a safer and better-defined environment for their employees.  Reducing the possibility of Arc Flash hazards and making their employees more aware and knowledgeable of the hazard is important to our clients and the safety of their employees.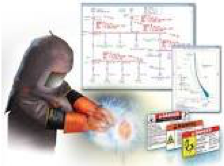 Bath performs Arc Flash Assessments in compliance with OSHA regulations and NFPA 70E.  We use SKM PTW32 Arc Flash software module to perform the study and analysis and all arc flash calculations performed are based on IEEE Standard 1584-2018.
During the Arc Flash Study, data is collected to develop an accurate model for the power system under study.  A Single-Line Diagram is created or updated.  The IEEE 1584 method is utilized to calculate the "arcing" short circuit current.  The Arc Flash Duration is determined to gather the energy exposure period.  Incident energy calculations are totaled to find the distance between the energy and location of the person, and the Arc-Flash boundary is determined.  Appropriate Arc-rated gear and PPE are selected according to the findings, and Arc Flash warning labels are produced.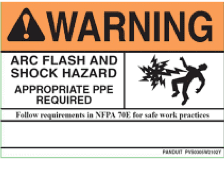 Arc Flash Labels contain the distance of the Flash Hazard Boundary, the calories/cm2 at the working distance and the category of PPE required.  A findings report is produced for the client.  It provides the findings from the study, charts and graphs developed during the analysis, and recommendations provided to reduce incident energy or problem resolution.
Bath has performed Arc Flash studies for Universities, Health Care Facilities, Municipal Facilities, Government Facilities, and Industrial Facilities.