Bath Engineering utilizes SKM and ETAP Software modeling tools to aid in power system designs and configurations and client system analysis to evaluate performance and areas for improvements.  Some of the power engineering functions Bath performs using SKM and ETAP include:
Arc Flash Studies
Harmonics
Motor Starting
Power Factor Correction
Power Flow
Relay-Protection Coordination
Short Circuit Analysis
System Reliability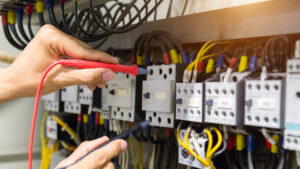 These studies are performed to evaluate the efficient operation of the power delivery systems.  They aid in the identifying of potential system deficiencies in new systems.  In existing system, analysis and evaluation of the operating limits, increase in loading levels, equipment failure, and cause of failure, and measures to improve system performance can be studied, analyzed and reported with recommendations.